Yarrow Intergenerational Society for Justice is holding its annual fundraiser and
fundraising auction with the hopes of reaching a $88,000 goal to continue its work of
empowering low-income seniors in Vancouver's Chinatown and Downtown Eastside
(DTES).
Chinatown Today has donated all four issues of Chinatown Stories for auction, so if you missed out on the previous launches, or are looking to complete the set, this is your chance!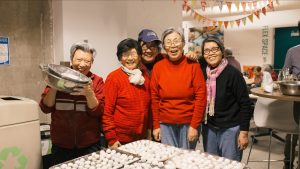 Since 2015, the non-profit has been working with Chinese-speaking seniors in Chinatown and the DTES to ensure equitable access to medical support, housing, income, food security, and government services. At their core, the organization believes in the power of community. Through the provision of services, education, and grassroots organizing, Yarrow works to help seniors overcome language and cultural barriers, to access services that meet their basic needs.

In the words of Lai Popo, a senior accessing Yarrow's services, "[Yarrow Society]
has done many wonderful things for Chinese folks in the Downtown Eastside such as
taking us to see the doctor, cultural activities, assisting with basic needs, health and
housing. They have helped us significantly."

Specifically, activities of the organization include:
● Helping seniors access basic health care by providing medical accompaniment
and interpretation support at their hospital and specialist appointments;
● Providing one-on-one support for seniors who face language and cultural barriers
to accessing government services to meet their housing, health, and income
needs;
● Delivering bi-weekly culturally appropriate groceries to seniors and medically
risk/immunocompromised community members in the Chinatown and Strathcona
community; and
● Providing free culturally safe case management services in Chinese in
Vancouver's Downtown Eastside. Yarrow is one of only two organizations
offering this service, despite the fact that in Chinatown and Strathcona, 32% and
45% of people, respectively, speak Chinese as their first language.

Yarrow Society is a diverse, intergenerational force that is empowered by honesty,
bravery, and solidarity in their fight to address and take action against systems of
oppression. Donations from community members and supporters of Yarrow's ongoing
work and vision are critical to ensuring an equitable and thriving Chinatown.
According to Todd Huang 黄承陶, Treasurer for Yarrow's Board of
Directors, "This fundraiser will help us maintain our programs and ensure that
Chinatown seniors have the support they need to age with dignity and access the
services they need."
States Melody Wise 维斯茵韵, Member at Large for Yarrow's Board of Directors:
"Grassroots fundraising is so deeply important, both to our operations, and the original
spirit of our organizing. This is what allows us [Yarrow] to remain accountable to our
community, and grounded in the struggle for a truly equitable and thriving Chinatown.
When we turn to the generosity of our community and allies, we are able to imagine and
build futures beyond the parameters of state-funding."
You can donate to Yarrow Intergenerational Society for Justice's fundraiser here.
CONTACT:
Beverly Ho
Operations Manager
operations@yarrowsociety.ca
Phone number: (236) 808-119
https://www.yarrowsociety.ca/about 
Image courtesy of Yarrow Intergenerational Society for Justice