About
Meet our Board of Directors
Thank you for your patience and support! Chinese translations updates and improvements of our content will be added to the website as we continue to grow. Our team is small, but we're working as fast as we can to provide accurate translations for you all!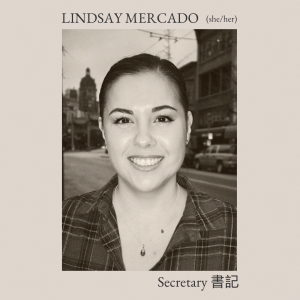 Lindsay Mercado (she/her), Secretary
Lindsay Mercado is third generation Chinese and mixed race, living and working as an uninvited guest on the traditional and unceded territories of the Katzie, Kwantlen, and Semiahmoo First Nations. Growing up in a small town on Vancouver Island with very little exposure to or representation from the Chinese community, visiting the mainland, and specifically Chinatown, meant family reunion, celebration of culture and gathering to enjoy traditional food. Lindsay graduated from SFU with a Bachelors in Psychology and Criminology. She currently works as the director for quality improvement and technology at non-profit in south Surrey that provides services, employment supports and housing for people with developmental disabilities.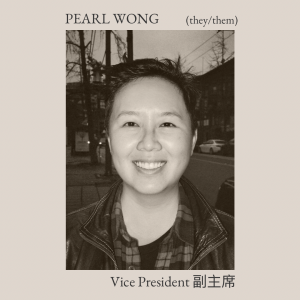 Pearl Wong (they/them), Vice President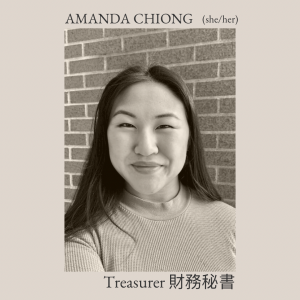 Amanda Chiong (she/her), Treasurer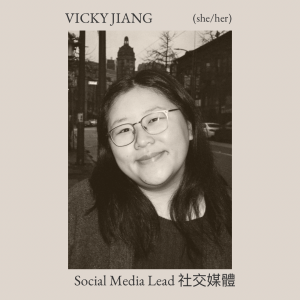 Vicky Jiang (she/her), Social Media Lead
Tim Lam (he/him), Editorial Lead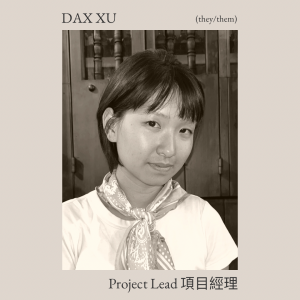 許雅慧 Dax Heaven (they/them), Project Lead
Dax Heaven 許雅慧 (they/them/theirs) is a first-generation Chinese settler and multidisciplinary artist, writer and photographer raised on Snuneymuxw territories. Their practice is informed by their continuous curiosity on the phenomenon of boundaries. Through the joining of a variety of mediums, their multi-media work highlights the interconnectedness amongst all things in the universe. They currently live and work on the unceded territories of the Musqueam, Squamish, and Tsleil-Waututh nations and can be found frequenting Chinatown bakeries for steamed pork bao.

梁家傑 Alger Liang (he/him), Project Lead
Alger Ji-Liang 梁家傑 (he/him) is an emerging interdisciplinary artist, collaborator, and arts worker based on the unceded territories of the Squamish, Tsleil-Waututh, and Musqueam nations (Vancouver). His lens-based art practice explores themes of kin, love, and grief. Alger is currently one of the project leads at Chinatown Today.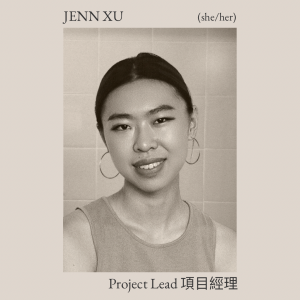 Jenn Xu (she/her), Project Lead
Jenn Xu (she/her) is a first-generation Chinese settler on unceded lands. She grew up visiting Chinatown with her parents picking up affordable fresh veggies at Sunrise Market and white sugar rice cake at Maxim's Bakery. She is a portrait + documentary photographer and a digital marketing specialist. Joining the CT board, she hopes to honour and retell Chinatown stories through the lens of empathy and the visual language.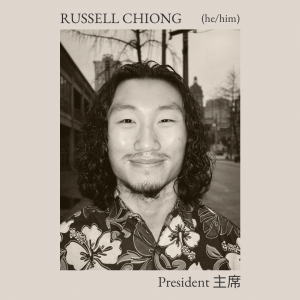 陳永強 Russell Chiong (he/him), President
Russell Chiong (he/him) is a Cantonese diasporic settler residing on unceded xwməθkwəyəm, Skxwú7mesh, and səlilwətaʔɬ territories. Chinatown has shaped not only his family history, but his cultural identity as well. He is currently studying environmental law, and has a background in environmental science and Asian-Canadian and Asian migration studies. Russell joined the Chinatown Today board of directors in 2020 as Treasurer, and is excited to step into this new role as President.
---
Previous Board Members
Immense thanks to our previous board members for their hard work and dedication in leading Chinatown Today since its inception!
Louis Lapprend, Founder
Dominique Bautista
Kimberley Wong
Katrina Nguyen
Emily Tso
Amanda Wong
Kaitlyn Fung
Angela Ho
Kelsey Lee
Serene Mitchell
Brooke Xiang
Phebe Ferrer
Accredits
We love Chinatown and we hope you do, too.
Many thanks to our translators, both locally and in different time zones, who have so generously shared their time and linguistic talents with us to provide translations of all our website content!
Yule Ken Lum
Joe Chou
Mark Lee
Wayne Hsu
Did we accidentally forget your name? Let us know!
If you would like to share a personal story, image, community event, or if you would like to join the team, please email us at info [at] chinatown.today