The streetscape of East Pender has rapidly changed over the past few years; old businesses have shut their doors, bringing way to trendy, new shops. Their minimalistic, matte framed and large panelled glass exteriors stand in stark contrast with the traditional businesses, slotted in between frames of red, dried goods stores, and overflowing storefronts that seem to spill onto the sidewalk.
There has also been a shift in the demographic of people who frequent Chinatown. The stores next to Bamboo Village speak to this change in demographic – Fortune Sound Club is seated next to luxury menswear boutique, and a coffee shop is opening across the street. "[Chinatown] is changing. Less and less Asian people [….] shop in Chinatown […] the young generation and local people they still come, but as what you can see, Chinatown is changing too so the type of customer is also changing." There are fewer Chinese families and seniors that stroll the streets – nowadays, you may spot a young man wearing Adidas NMDs or a young lady in wire-frame glasses and vintage Levi's. Kella, owner of Bamboo Village, remarks – "Chinatown is changing […] My daughter told me that it's more hipster. This is a new word for me."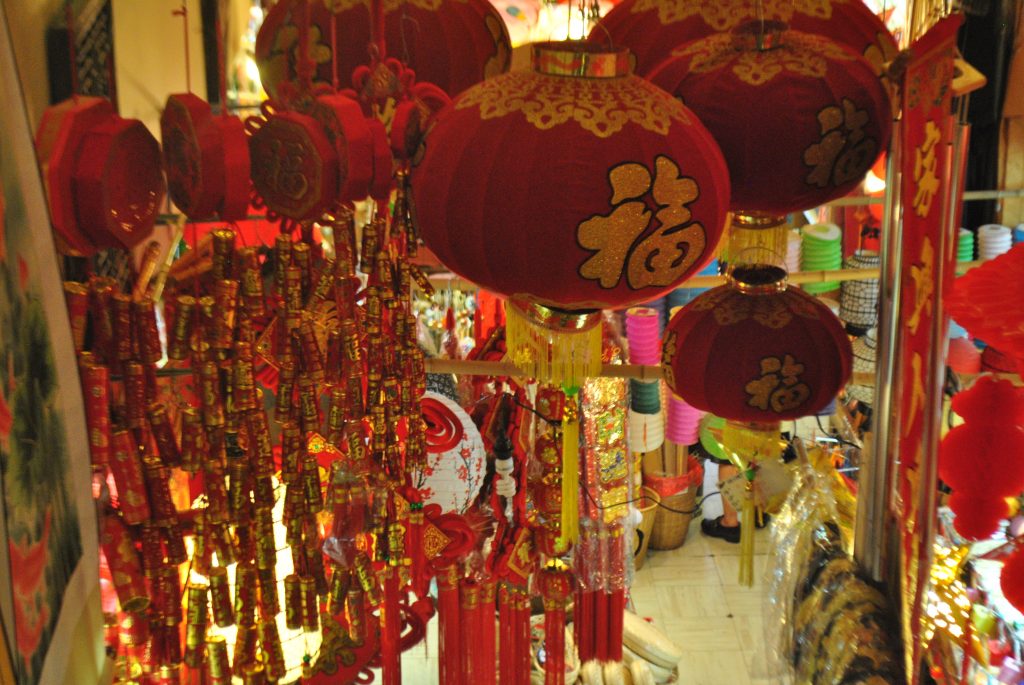 Bamboo Village is one of the traditional family businesses that is still running on East Pender. The experience of stumbling upon Bamboo Village is a treasure trove in itself; the storefront is humble and unassuming, and it's entrance will greet you with bamboo jutes and an assortment of potted plants and succulents. It is deceptively small from the outside. Once stepping in, you'll find yourself engulfed in a sea of Chinese paraphernalia that seems random yet thoughtful all at the same time – dishwares and flower vases are shelved across a slew of antique Maoist memorabilia and antique telephones; in another corner of shop, Chinese takeout containers and bamboo rice steamers are stacked next to ornate birdcages; upstairs, a collection of aged Buddha statues and antique rosewood furniture, inlaid with mother of pearl.
Kella, the mom of the mom-and-pop duo that make up Bamboo Village, tells me that the history of Bamboo Village is about as varied as the goods that it carries. Bamboo Village had its humble origins in Chinatown originally as a herbal business of a different name; entrepreneurial and quick to adapt, it shifted its direction towards kitchenwares, housewares, and asian handicrafts, before transforming into an asian furniture store. It appears that it is currently a combination of all of its histories, with the addition of one integral ingredient that gives it its namesake – bamboo. Kella tells me that her father-in-law, the original owner of the shop, suggested both the addition of bamboo into their sales inventory, as well as the name of the shop. "My father-in-law is a smart guy," she muses – "at that period of time, no one else was selling bamboo […] eventually we brought in more and more bamboo items, and the store became Bamboo Village."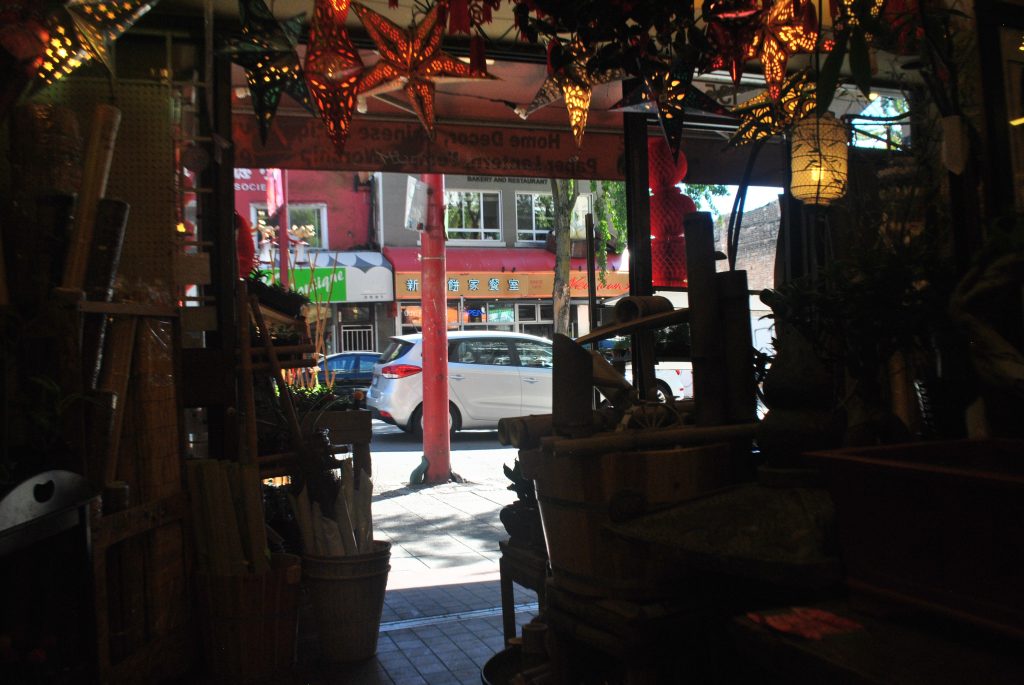 As the doors of traditional Chinese businesses continue to shutter closed along East Pender, Bamboo Village appears to be keeping up with the times. In the aisle that contains kitchenware and kitchen storage items, I spot a handwritten sign in what I assume to be Kella's daughter's writing – "follow us on instagram! @bamboovillageco." Her daughter had lamented to me how she "taught her dad how to instagram, and he posted over 70 pictures over 12 hours." She ended up changing the password to lock him out. A quick search on Google will also tell you that Bamboo Village has a website, complete with slideshow of filtered photographs and Kella's husband, Dixon, on the homepage. In the quick changing landscape that is Chinatown, Bamboo Village continues to do what it has always done – adapt.
But in the age of the internet, adapting only gets tougher – especially for mom-and-pop businesses that rely on foot traffic and tourists. When searching for affordable decor, utensils, or souvenirs, people tend to turn to the internet in search of better deals. Vancouverites seem to have forgotten about Chinatown's affordable wares. Although Kella's $2 Chinese porcelain vases rival the price of even Alibaba, business has gotten tough. "But doing business is tough now. Not only in Chinatown, but tough everywhere."
"So I've come to a problem- is business good enough for me to hire another person?" With an inventory as vast and varied as Kella's, hiring an e-commerce specialist would probably cost more than she could afford. Doing it herself is not an option, either. Instead Bamboo Village has decided to shift in it's own way – the same way it always has – by responding to what its customers want. The entrance of the shop features succulents, terrariums, and glass orbs that could be mistaken for something sold at Urban Outfitters or West Elm. Miniature air plants and bamboo are paired and arranged carefully with tea cups as planters. "We at least try to introduce more things," Kella says, notioning towards the greenery in her store. "Those plants are very hard to kill, and young people like them. That's why we bring them in. We try to adapt to the world, but we do it in a slow way." To this, I can fully agree – I've bought about 5 plants from them myself. I did, however, manage to kill two of them.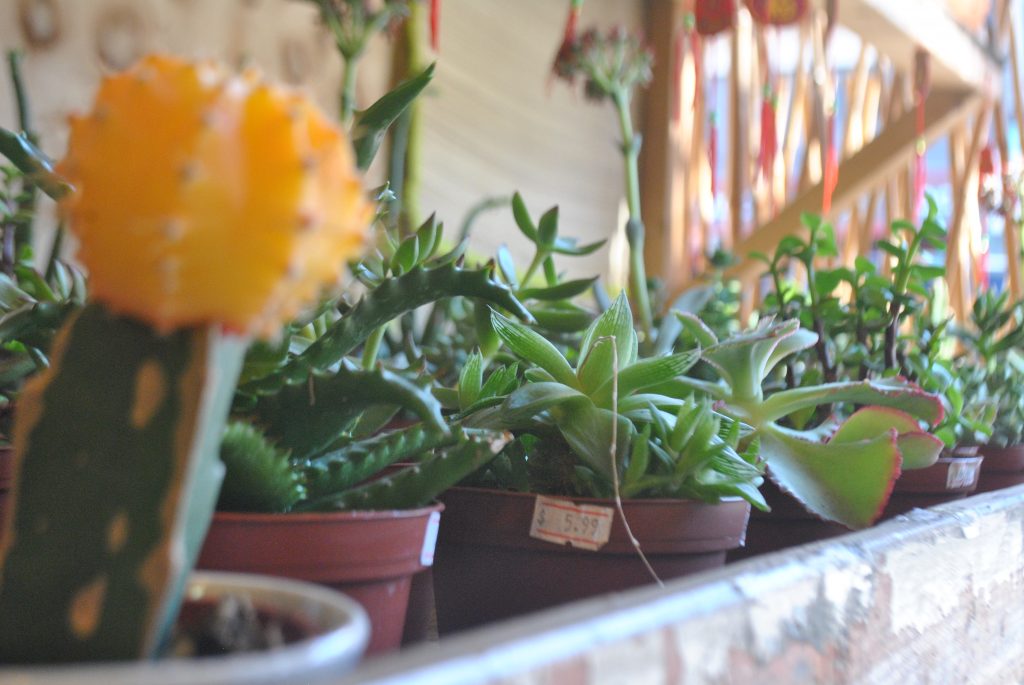 Succulents and terrariums are plants that you might find in any store, not just one in Chinatown – it's an identity clash that many traditional Chinatown businesses are facing now. What is the compromise between losing your soul, and losing your business? Chinatown sees stores closing shop ever frequently – the struggle to survive has become increasingly difficult. Soaring property taxes pressure landlords to increase the rent for business like Kella's – something that makes the cost of doing business increasingly great. Yet the fight for survival still holds strong in Bamboo Village. The front of the store – the foliage and planters – are what pulls the new breed of shopper into Bamboo Village. Once lured inside, the deep length of the stop and all it's wares are what entice you to stay. With it's blue and white porcelain, paper lanterns, and woven baskets, it almost feels as if you have been transported into a shop in rural China.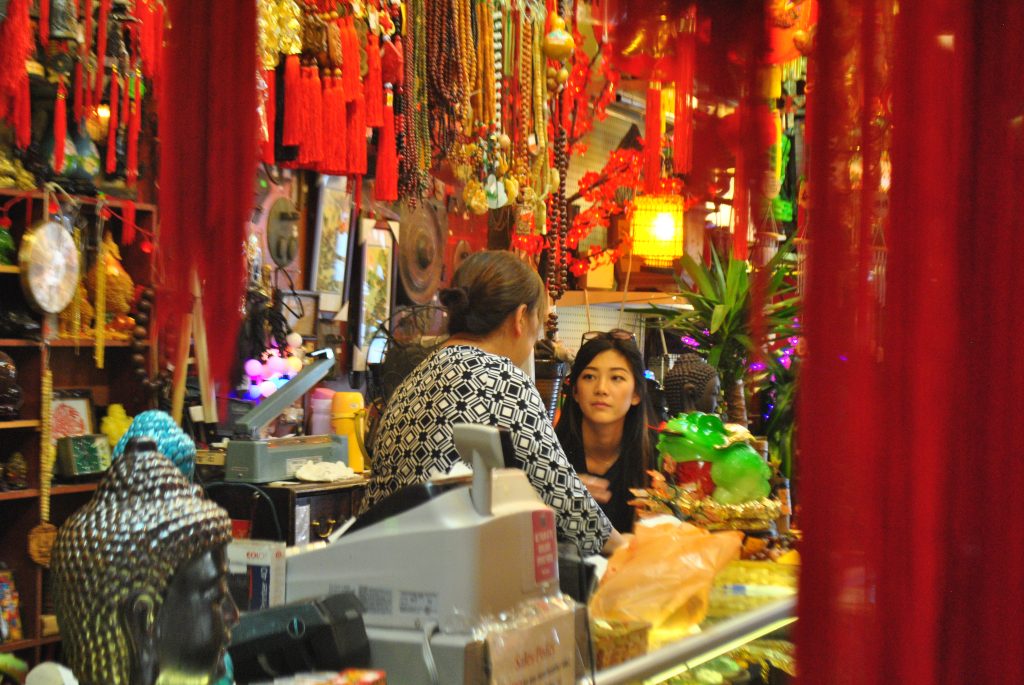 It is easy to miss certain things in this shop. With its shelves overflowing, every time you step in Bamboo Village you will discover something new. As I am next to the counter chatting with Kella, I notice a gorgeous, aged apothecary drawer with an assortment of Asian styled brass drawer pulls. The drawer pulls are unlike anything I've ever seen sold at Home Depot or anywhere else – some are adorned with butterflies, and others in intricate imperial Chinese style. Some are plum blossoms, and some are in the shape of Chinese written characters. I quickly realize that each of these drawer pulls are for sale, and are stacked inside each apothecary drawer with the corresponding handle on the outside. The drawer, surreptitiously placed next to the cash counter, was not one that I had noticed before – I previously had seen it, but assumed it was storage for the shop owners.
Walking towards the staircase going up into the antique section, a small hanger full of Chinese silk robes catch my eye. Nestled behind it are vintage army jackets from the 60s and 50s, with enough down puffer lining to brave even Montreal winters. Behind it is another vintage trench coat, and another vintage gown.
This eclectic curation of goods functions as part museum, part home decor store, and part souvenir stop – it has informally become an institution of Chinatown and a must-see for tourists. It is the perfect marriage of Chinatown kitsch and local authenticity that has cemented it as legacy brand of Chinatown. Come Chinese New Years, Bamboo Village will be engulfed in festivities of red and the soft scent of incense that will immediately teleport an unsuspecting patron away from Vancouver.
As I prepare to leave the store, I am reminded of the latest succulent I have managed to kill by over watering. I grab another potted plant to replace the rotting and sad thing sitting at home. It occurs to me that I don't have cash – I always bring cash when I'm in Chinatown, since most places don't accept card. I sheepishly ask her if she is able to accept credit cards. "Debit," Kella tells me, with a warm smile on her face. "$10 minimum." I am immediately reminded of her earlier statement – we try to adapt to the world, but we do it in a slow way.