FOR IMMEDIATE RELEASE:
October 1, 2019
Media Contact:
Louis Lapprend
Louis@chinatown.today
778-968-4242
Chinatown Today celebrates the aunties, elders and ancestors of Chinatown with launch of new mixed media publication, "Chinatown Stories Volume 2" 

Local nonprofit publication brings forward stories around diasporic and settler identity and culture after countless conversations and over a hundred submissions from members of the community, prompting reflection on elders, and kinship. Launch event will feature art installation, readings and refreshments with limited print run of publication available for purchase on Oct 12.
Vancouver, BC: Following the success of its first publication in 2017 which raised an auspicious $8,888 through a Kickstarter campaign, local nonprofit organization, Chinatown Today, set out to continue its goal, to produce a grassroots magazine series, taking a snapshot of our evolving yet everstill Vancouver Chinatown, sharing and archiving its stories both past and present. However, unlike Volume 1, Chinatown Stories Volume 2 "Aunties, Ancestors and Elders", to cast a wider, more diverse, more intergenerational, net. Vice-President Kimberley Wong notes, "…something we really wanted to do with this volume was to tell the underrepresented stories in Chinatown, ones that don't traditionally come up in conversation when speaking about Chinatown".
Uncovering stories uncommonly told meant finding new ways to reach out, build trust and bridge relationships. With the help of two incredible summer staff, Editor Y Vy Truong and Community Outreach Coordinator Kathy Thai, Chinatown Today set up post at various community events such as Pride in Chinatown, Chinatown House Craft Fair, had an open drop-in for folks to come in and make a contribution and collaborated with Yarrow Intergenerational Society for Justice. All these efforts proved fruitful, the team received 41 submissions ranging in different media such as photography, poetry, essays, and illustrations and 81 postcards submissions from our community art project Letters to Our Ancestors. Kathy Thai recalls, "One grandmother spoke apprehensively, saying she's lived in Chinatown and used Cantonese for so long that her Vietnamese may not be good. Later, while drawing lanterns on her card, she suddenly burst out singing in Vietnamese. I was completely taken aback because it was the same children's song my mum used to sing to me when we carried our lanterns to Trout Lake."
The publication launch party will be on Saturday, October 12th, starting from 1PM until 5PM at Chinatown House (188 E. Pender). In attendance will be Chinatown Today volunteers, staff, board members and publication contributors with a special reading from reading from poet, Phebe M. Ferrer, and writer, Vyas Saran. Chinatown Today will also be featuring our community art project, Letters To Our Ancestors. Copies of the publication will be available for purchase and pick-up at the event. Pre-orders are encouraged (Pre-order – https://gumroad.com/chinatowntoday). Refreshments provided by Happy Woman Kitchen, and Scrape Baking. 
Chinatown Today president Louis Lapprend on the completion of the publication:
"Chinatown Stories was always intended to be a series. After the success of Volume 1, we knew, people are hungry for more stories about Vancouver's Chinatown. It has been two years since we published the first volume. The time is right for Volume 2. During these two years, our organization has grown considerably. Where Volume 1 was mostly written from members of our team, Volume 2 is a test of our capacity to reach out in the community and find other voices.  These stories tell us of how the lives of many people from very diverse backgrounds are converging in Chinatown, where they find community and roots."
Contributors: Christina Lee, Dawn Lo, Dora Ng, Emily Chou, Hue Nguyen, Jane Shi, Jenn Xu, Justine Crawford, Leilan Mei Yin Wong, Levana Luu, May Wa Leng, Rachel Lau, Phebe M. Ferrer, Sarah Wai Yee Ling, Vyas Saran.
Accessibility Notes: Chinatown House is serviced by the bus lines: 3, 4, 7, 8, 19, 22, 209 and there is metered parking at the front. There is ground-level entrance and the wheelchair accessible button is currently broken, but event organizers are available to assist with opening doors for individuals. The washrooms are binary trans-inclusive, with wheelchair accessible stalls. We are currently addressing how we can increase the accessibility of this space
We acknowledge that this event is taking place on the ancestral, traditional, unceded and occupied Indigenous territories of the Coast Salish Peoples, and̓ in particular, the hən̓q̓əmin̓əm̓ speaking xwməθkwəy̓ əm (Musqueam), Tsəlílwətaʔɬ /Selilwitulh (Tsleil-Waututh) and Skwxwú7mesh Snichim speaking Skwxwú7mesh (Squamish) Nations.
This land was never surrendered, relinquished, or handed over by these Nations to Canada or British Columbia through a treaty or other means; it is sovereign and unsurrendered.
Links:
Pre-order – https://gumroad.com/chinatowntoday
Chinatown Today website – www.chinatown.today
Chinatown Today Facebook Event– https://www.facebook.com/events/414490259254131/
Chinatown Today Twitter – https://twitter.com/chinatown_today
Chinatown Today Instagram – https://www.instagram.com/chinatown.today/
Media Contact:
Louis Lapprend
Louis@Chinatown.today
778-968-4242
Images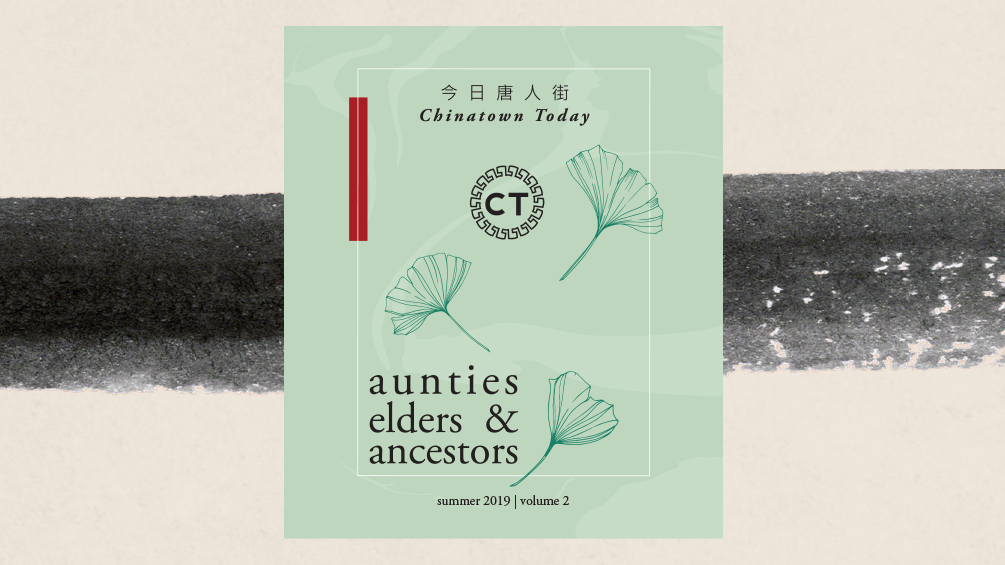 The book cover for "Chinatown Stories Volume 2 : Aunties, Elders & Ancestors"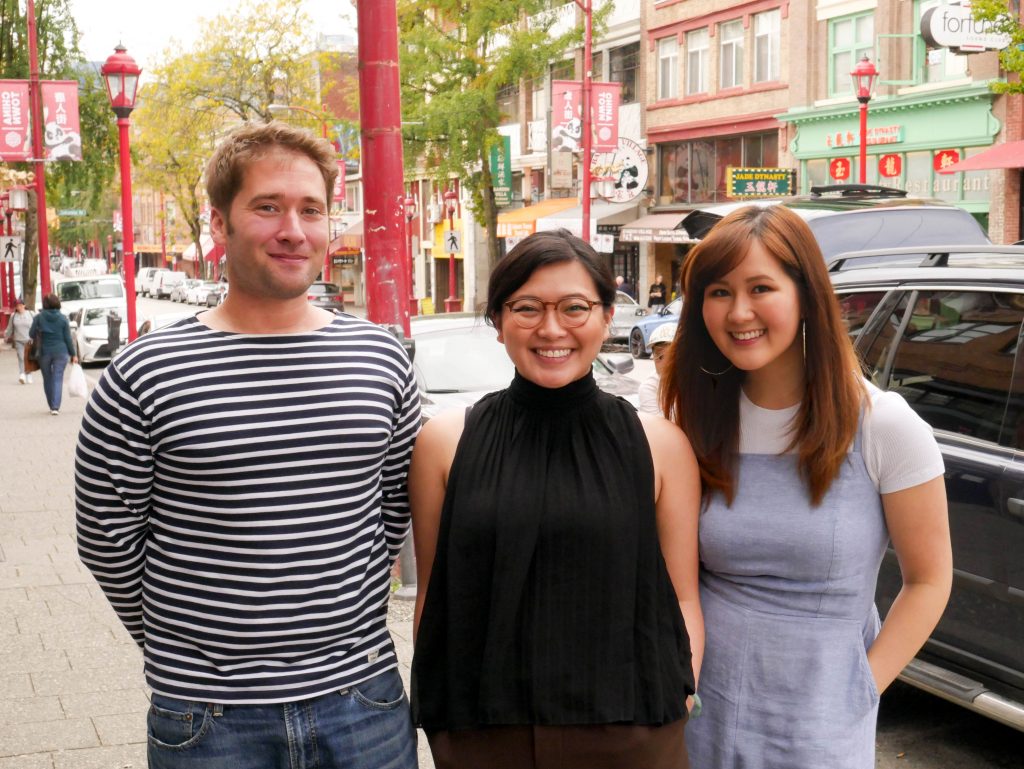 From left to right, Louis Lapprend, Y Vy Truong, Kathy Thai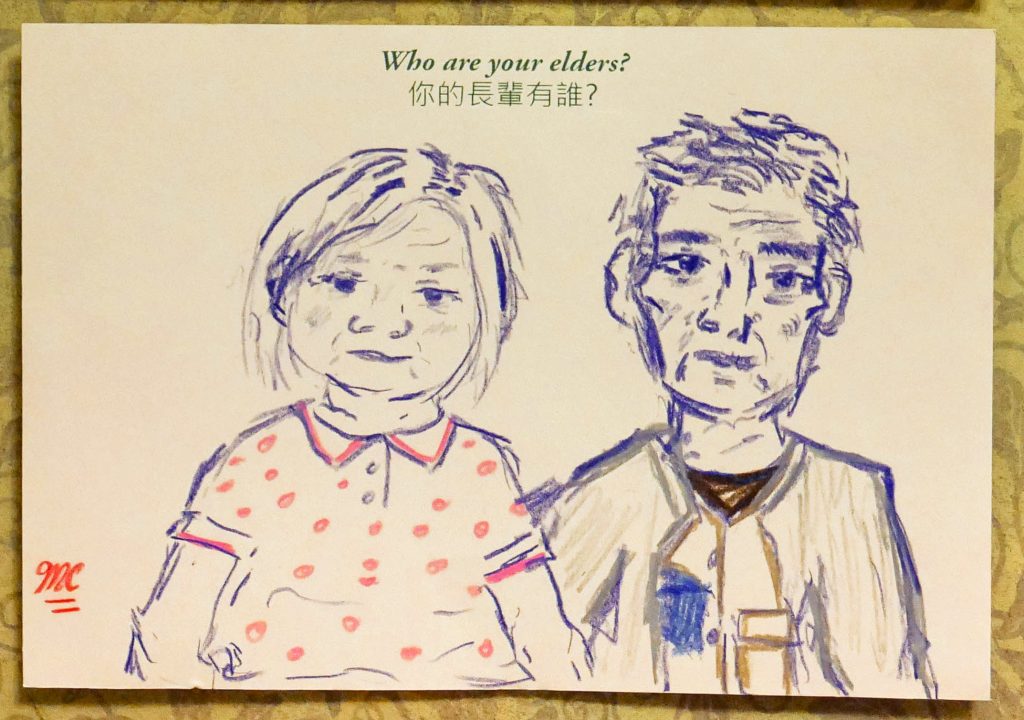 Postcard submission by senior Chinatown resident.