Self Guided Tours
Winter Guide
By Theo Wong
It's that time of year again: the slight sliver between Summer and Winter that's 50% sun and 50% rain and 100% cold. It's the time of year when the sun sets earlier, and everyone seems to have dinner parties planned with soups, stews, and broths ready to go 24/7. The leaves are changing, the cyclists are starting to put away their wheels. Start collecting those blankets and hoarding the tea because it's sweater weather.
Of course just because the heat has left Chinatown, it doesn't mean that the fun has to too. There are lots of ways to warm up this autumn around the neighborhood. So join us, from soups to buns, fun walks and must buys of autumn, let's make the most out of our visits to Chinatown this beautiful season!
Bao- ing for breakfast
As the cold weather starts to take over Vancouver this season, warm buns are the way to go! There's nothing like going into New Town Bakery early in the morning and getting a freshly steamed bun for breakfast. One of them will definitely fill you up for the morning… two, if you're feeling extra generous. Take your pick from chicken, pork, beef or just veggies. Just one of these buns will warm you up for the whole day.
If morning buns aren't your thing, save some for dinner. New Town sells frozen buns to go in packs of 6. Take them home and steam them fresh for dinner or a quick snack.
Soup for the Soul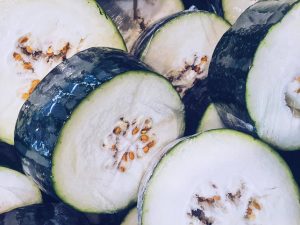 Growing up, winter always meant enjoying a bowl of soup, as I'm sure the same can be said for many families. There's nothing like a tasty sweet or savory warm bowl of synthesised grandma love! The self- proclaimed Queen of Soup (doesn't every grandma claim this title?), Grandma Wong specializes in slow-cook soup. (老火湯; pinyin: lǎohuǒ tāng; Jyutping: lou5 fo2 tong1; in the Cantonese dialect, literally meaning old fire-cooked soup). Common among restaurants as well as at home, slow-cook soup is particularly iconic if your are specifically from Hong Kong. Usually prepared as a clear or misty broth made by simmering a pot of water, meat, and other ingredients over low heat for several hours, slow-cook soup is a staple around any dinner table when cold weather comes to town. Grandma Wong's recipe for Winter Melon Soup is perfect for the autumn season, and what's more, you can buy all the ingredients here in Chinatown!
Ingredients
1 medium sized Wheel of winter melon
1 Can of grass mushrooms
6 large Shitaki mushrooms
Small handful of Small Dried shrimplets
___Grams of tender pork.
2 teaspoons of Salt
2 teaspoons of Oil
2 cloves of chopped garlic
Bring one pot of water to a boil. And keep the soup at a simmer with low heat.
Take the wheel of wintermelon and peal off the green skin with a knife. Proceed to chop the white flesh into bite sized cubes.
Open the can of Grass mushrooms and run them under some cold water to get rid of the gamey flavour. Take the Shitaki mushrooms, lightly wash them, squeeze out the excess water and chop them into small cubes.
Chop the glaring and cube the piece of pork.
In a pan, heat the oil and garlic. Fry the shitaki mushrooms until all the oil is soaked up. Sprinkle a pintch of suger over the Shitaki mushrooms and lightly toss them in the pan until all the sugar is absorbed.
Add the dried shrimplets into the pan with the Shitaki mushrooms. Toss for ~3 minutes
Add the pork to the pan and toss until all surfaces are light browned. The meat does not have to be fully cooked. (This is just to keep the pork from fall apart in the soup)
Add the mixture of shitaki mushrooms, shrimplets and pork to the simmering pot of water.
Bring the heat up in the pot to medium heat and let it simmer for 30 minutes.
Add the grass mushrooms into the pot and let simmer for another 15 minutes.
Add wintermelon blocks and simmer for another 15 minutes
Add salt and to taste.
Note: the longer the soup is set to boil, the richer the flavour. The noted time frames above are the minimum amount of time the soup needs before it is ready for consumption. Often times it tastes even better when reheated in a pot the next day.
Baby, let's get comfortable tonight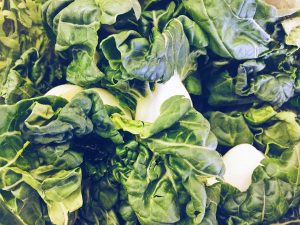 Fall is the best time for warm home- cooked meals that soothe the soul. Simple comfort foods that take 10 minutes to make and are reflective of memories past are the best way to end the day. That, and a comfy blanket, Netflix with Friends re-runs, of course!
My absolute favourite green and simple comfort food is baby bok choi stir fried with chopped garlic. Simple, I know, but it's available all year round, and I think almost every young Chinese Canadian has grown up eating such a simple side dish, paired with a bowl of white rice. Deep, flavourful and hearty, this dish hits the spot for quick meals at the end of the day. For those of you that are unfamiliar, here is a rough guide to making this simple side dish. Oh, and it's vegan too!
Ingredients
½ bag of baby bok choi
2-3 cloves of chopped garlic
4 teaspoons of oil.
Buy baby bok choi. Make sure to buy shoots that are short and bright green, but not dried out or wilted. Large, fatter bunches may not always be good, and are harder to clean.
Wash the baby bok choi thoroughly. Use a knife and take away the stem. Peal the different layers until you reach the core. (Generally I take out the flowers at the core, but up to your discretion). Repeat for each one.
Heat oil and garlic in a pan.
Add and toss the choi to the pan until bass ends of the choi are somewhat translucent.
Add salt to taste, the choi will now release all its excess water. Heat until most of the water has evaporated.
Remove from heat and served with bowl of rice.
Note: baby bok choi are notoriously full of dirt and attract bugs. The leaves are tasty to insects and the layers are good places for them to lay eggs. Cleaning thoroughly is highly advised. If you have time, fill your sink with water, add 2-3 teaspoon of salt and soak the choi for 10-15 minutes or until time of cooking.
Curry in my tummy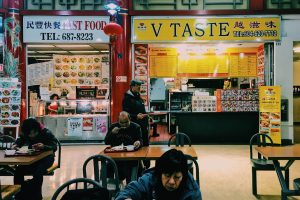 Lunch is the best part of the work day, and what's better than lunch? A lunch at an ideal price with at maximum quantity. I would say that nothing is better than getting a hot plate of spicy curry at V taste in Chinatown Plaza. Don't let the fact that this is food court food stop you, it's a hidden gem in chinatown. For 6.99 you get a large plate of curry that will fill you up for the day. With your choice of chicken or beef, the curry is spicy and flavorful served with plenty of jasmine rice. Be careful though, because you might end up in a food coma at work after, you have been warned.
While you are in Chinatown Plaza, make sure you take it all in. This place is an oasis of authenticity in the desert of standardization. Unlike other food courts, none of the stands here belong to big companies. These are honest-to-goodness unpretentious independent businesses. Have you noticed that the television above the food court is mostly playing daytime soap-operas instead of news? I do not know if it means anything, but I find it comforting. Make sure you take a moment to browse the equipment for sale at En's Table Fine Tools and try to find an excuse to purchase a jeweller's loupe or a set of miniature wood-carving tools you may never really need.